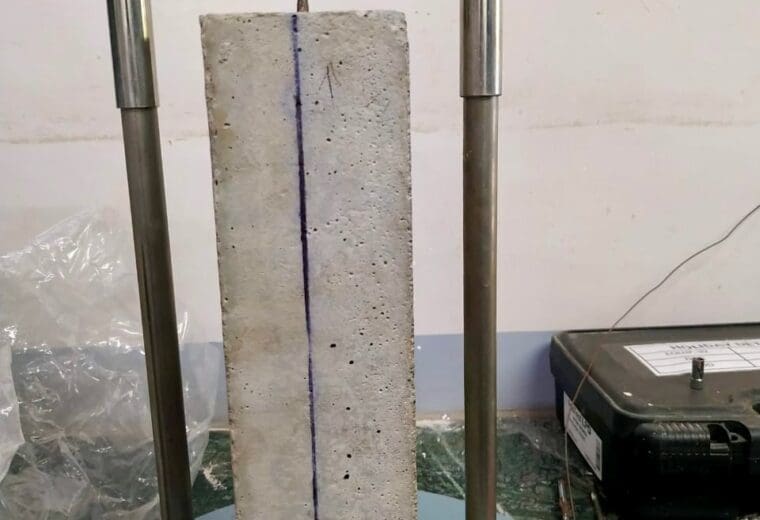 Concrete Drying Shrinkage Test
Test Method: ASTM 157
The Concrete Drying Shrinkage Test is conducted to measure the extent of shrinkage that occurs in concrete as it dries and loses moisture. This test helps assess the potential for cracking and deformation in concrete structures due to drying shrinkage.
Test Specimens: Specially prepared concrete specimens resembling the actual material.

Initial Measurement: Precise measurement of specimen dimensions before drying.

Drying Conditions: Specimens exposed to controlled low humidity or specific drying conditions.

Dimensional Changes: Regular measurements track changes in length, width, and thickness.

Calculation: Percentage of drying shrinkage calculated based on dimensional changes.

Significance: Understand concrete behavior, predict cracking, and design appropriate reinforcement and control joints.

Test Standards: Follow guidelines such as ASTM C157, ASTM C596, or EN 13687-2.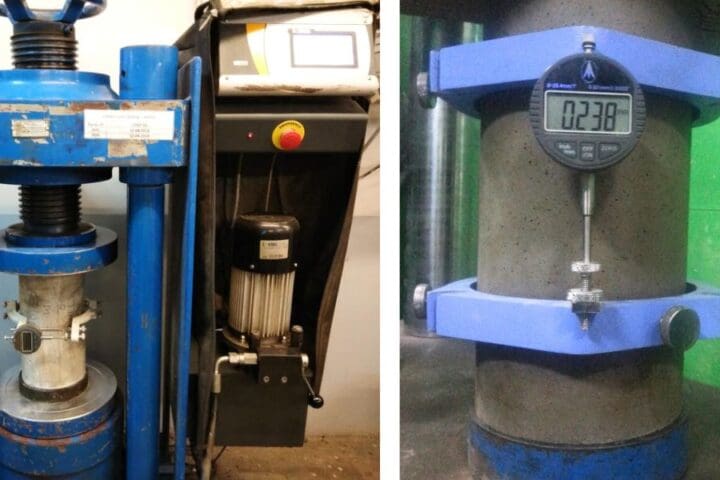 Modulus of Elasticity of Concrete
Test Method: ASTM C 469
The modulus of elasticity is a fundamental property that measures the stiffness and flexibility of materials. In the context of concrete, it refers to the ability of the material to deform elastically when subjected to external loads
Measurement: Determined through specialised laboratory tests like static or dynamic modulus of elasticity test.

Factors Affecting Modulus: Influenced by concrete mix design, aggregate properties, curing conditions, and age of the concrete.

Significance: Crucial for structural design & analysis, understanding concrete behavior, ensuring safety and performance.

Relationship with Strength: Indirectly related to compressive strength, generally increasing as concrete strength increases.

Limitations: Modulus of elasticity varies based on concrete type and age, subject to change over time due to creep and shrinkage.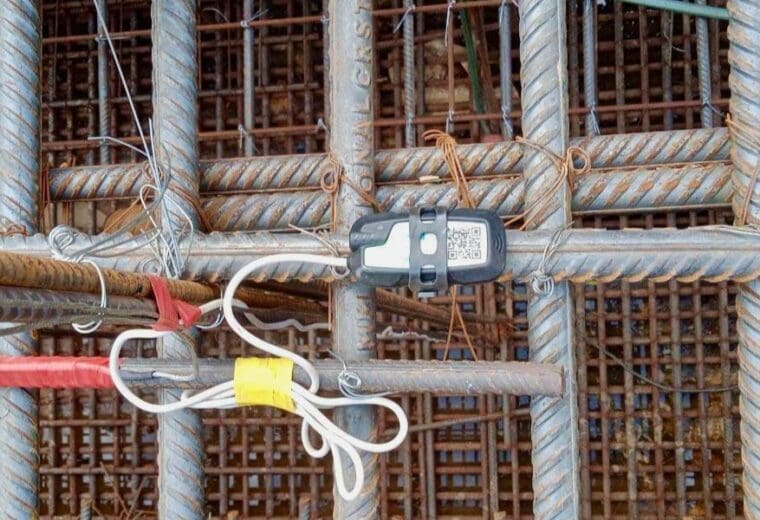 Mass Concrete Temperature Monitoring
Mass concrete temperature monitoring is a crucial practice employed during the construction of large concrete structures, such as dams, bridges, and high-rise buildings. It involves the continuous measurement and recording of the internal temperature of the concrete mass to ensure proper curing and prevent thermal cracking.
Mass Concrete Temperature Monitoring
Purpose: Manage concrete heat, control temperature rise, and prevent cracking.

Sensors: Strategically placed to capture accurate temperature data.

Data Collection: Continuous recording of temperature readings.

Analysis: Identify abnormal temperature rise and assess thermal behavior.

Control Measures: Adjust concrete mix, use cooling techniques, and apply insulation.

Schedule Adjustment: Optimize concrete placement timing and curing methods.

Compliance: Meet construction codes and guidelines for durability.

Expert Guidance: Experienced professionals ensure effective temperature monitoring.